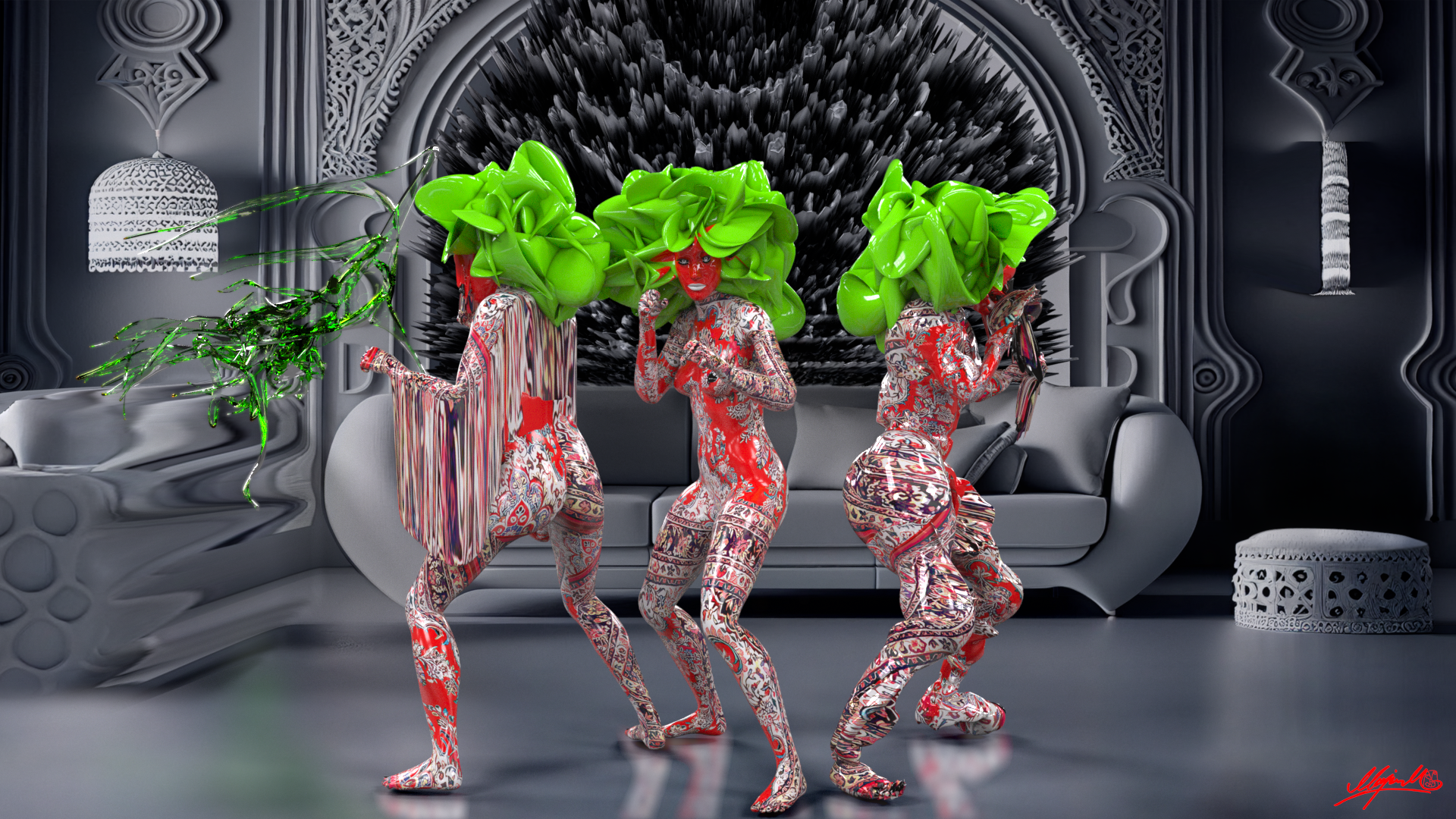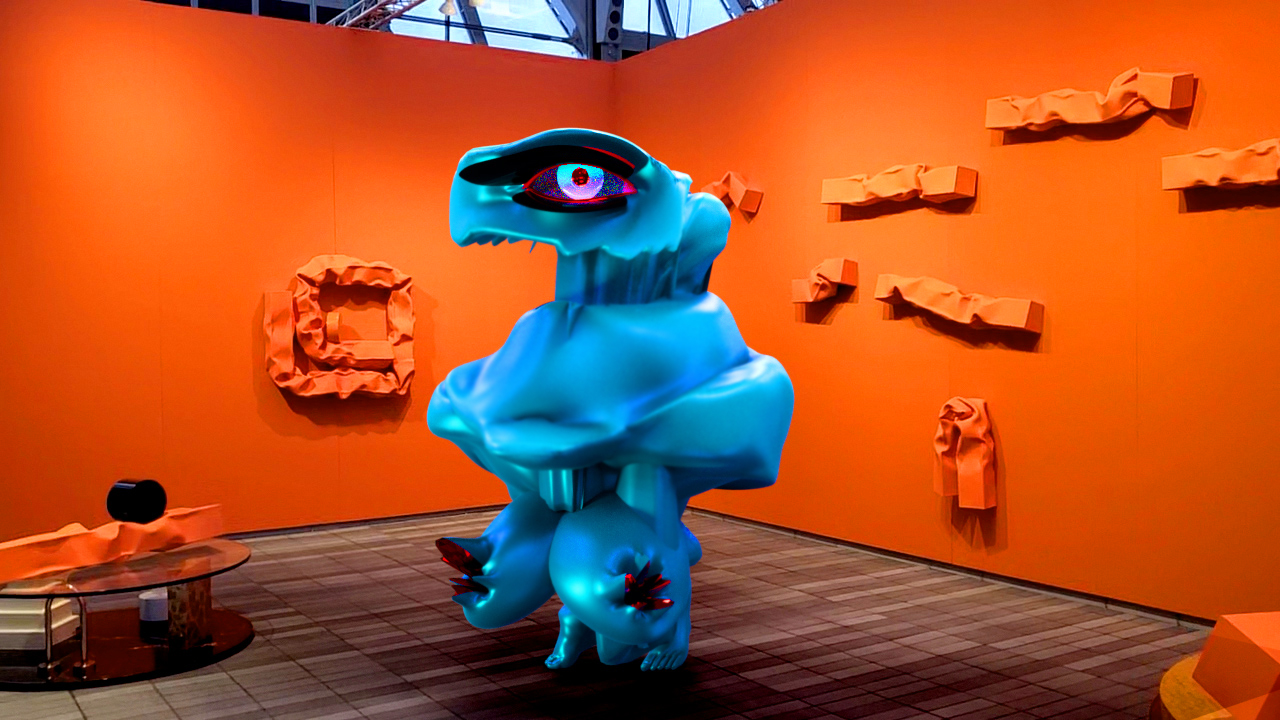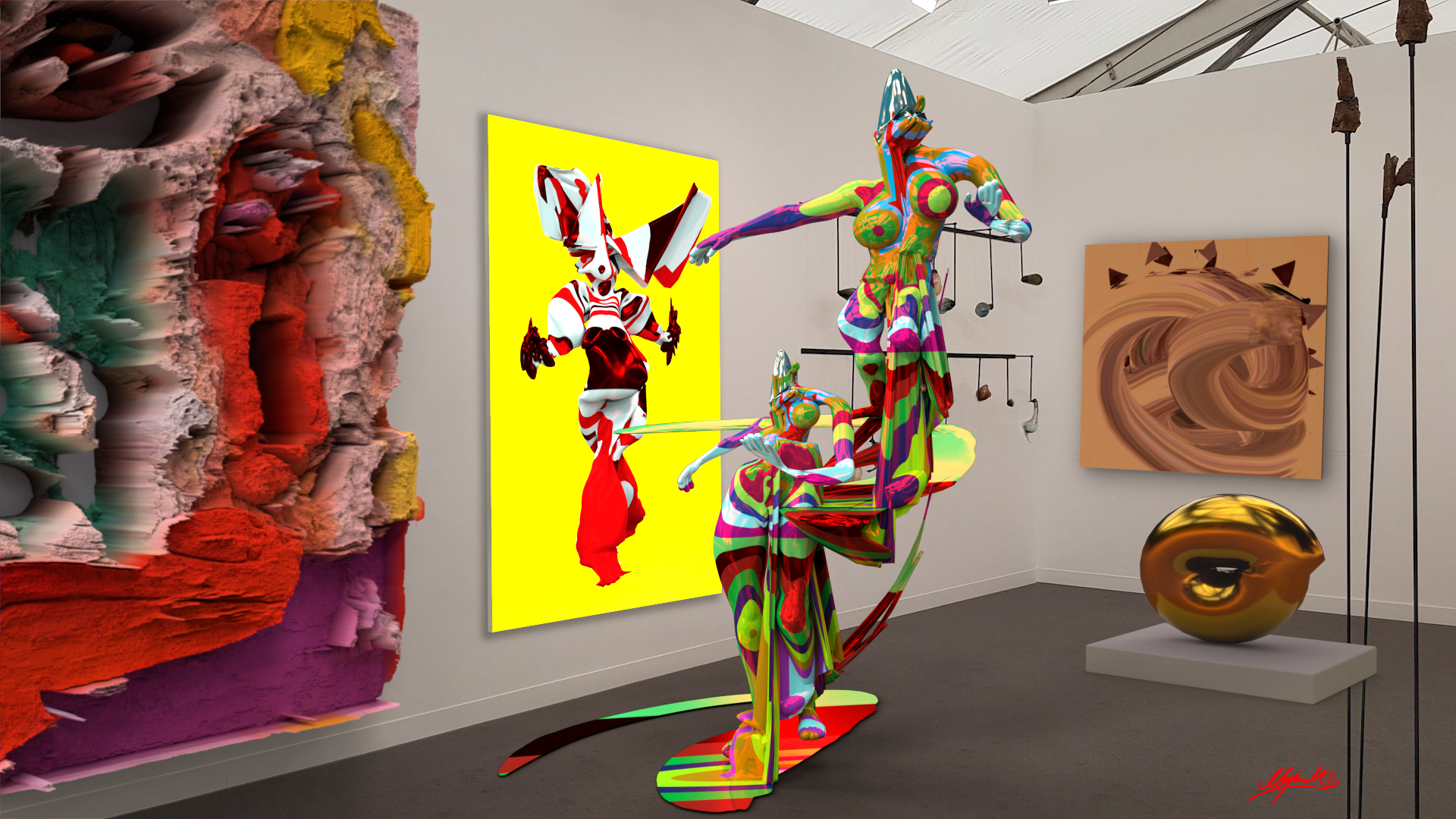 Marjan_Moghaddam_008_Woman_Life_Freedom_AI_Arthack_(Dimensions_variable)[2023]_HR
Marjan_Moghaddam_001_Barayeh_Azadi_For_Freedom_(Dimensions_variable)[2022]_still_web
Marjan_Moghaddam_002_For_Freedom_Part_II_Art_Basel_Miami_(Dimensions_variable)[2022]_still_web
Marjan_Moghaddam_003_The_American_Hush_Frieze_NY_(Dimensions_variable)[2022]_still_web
Marjan_Moghaddam_007_Glitched_Odalisque_Multibody_from_Frieze_London_2019_(Dimensions_variable)[2023]_web

MARJAN MOGHADDAM
24 MARCH — 22 APRIL 2023
OPENING RECEPTION
THURSDAY, 23 MARCH, 6–8PM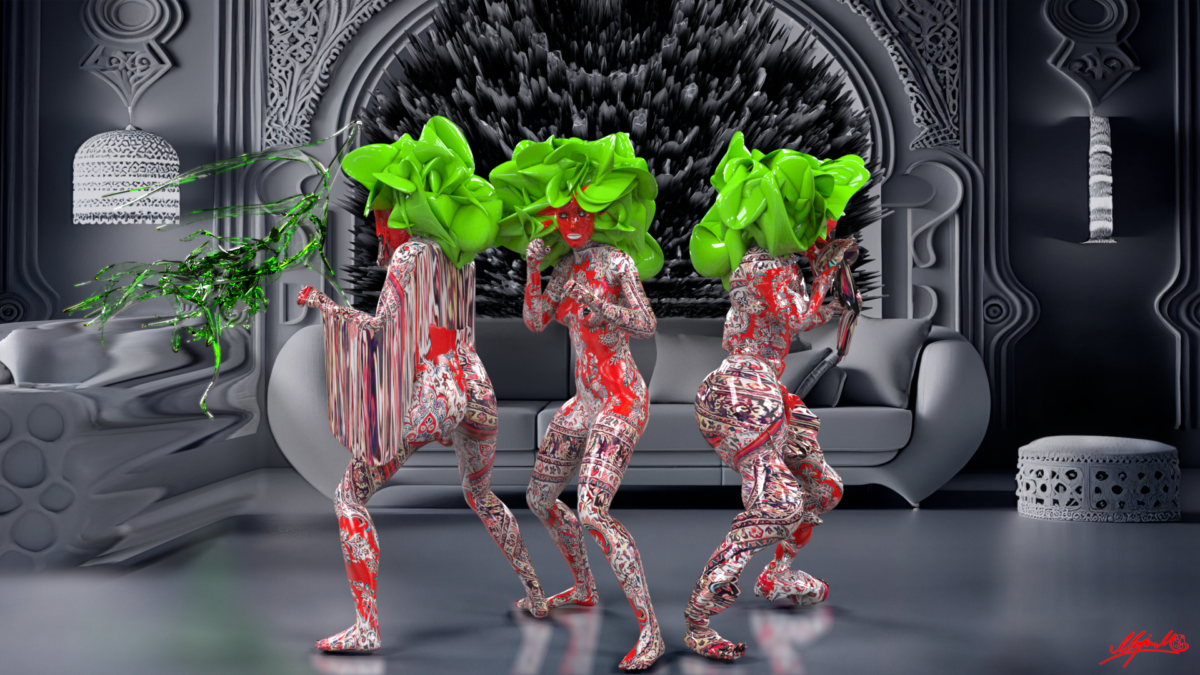 BUY NOW: Drop on objkt.com
VISIT NOW: ANNKA KULTYS PHYGITAL, the experimental virtual reality gallery exhibition, headsets are available (472 Hackney Road, E2 9EQ)
For assistance in purchasing NFTs, please contact us at inquire@annkakultys.com
PRESS RELEASE
Press Release (NFT) — on Objkt.com
"Glitch is something that extends beyond the most literal technological mechanics," suggests the curator and writer Legacy Russell in her 2020 publication, Glitch Feminism. "It helps us to celebrate failure as a generative force, a new way to take on the world." Put another way, glitch creates productive ruptures in the power dynamics of contemporary digital culture, challenging the superstructures that dictate what technology is, how it should be used, and who it is for. To glitch is an act of resistance; it is a type of world-building, a means of ghosting binaries and creating alternative systems in the process.
Since 2016, the Iran-born digital artist Marjan Moghaddam has developed #Arthacks, a mixed-reality series expanding on the power and poetics of the glitch within the global art economy. Building on the artist's decades-long practice that integrates world-building and digital embodiment, #Arthacks takes aim at the financial heart of the art world: its fairs. Devised in real time within the three-day framework of each fair, Moghaddam's #Arthacks are made visible through augmented reality (AR) technologies. The technicoloured anthropomorphic beings disrupt the logics of the art world through their feminist and activist interventions.
Presented in Annka Kultys Gallery's phygital space, Moghaddam's most recent series of #Arthacks—For Freedom Part I (2022), For Freedom II (2022), and The American Hush (2022)—are located within real and imagined art fairs. The artist borrows from footage of the fairs shared online as well as conjuring speculative art events with the popular text-to-image AI tool, Midjourney. Within these interventions, Moghaddam's distorted and hallucinogenic 3D CG figures, which the artist refers to as Chronometric Sculptures, take over sales booths and blackjack tables, even utilising the polished concrete floors between gallery outposts as their own personal runway. Often set to remixes of the Persian protest song Baraye by Shervin Hajipour, Moghaddam's #Arthacks bring the activist potential of art to the realm of mixed-reality.
From New York to Basel, Miami Beach to London, Moghaddam disrupts the economic and social operations of global art events with her augmented posthuman creations. Taken together, Moghaddam's #Arthacks speak to the artist's adept integration of glitch aesthetics, meme culture, and AR technologies to center urgent political movements within the often depoliticised atmosphere of contemporary art fairs.
SELECTED PRESS
ARTWORKS
In Barayeh Azadi: For Freedom Part I (2022), part of the Iranian-born, New York-based digital artist Marjan Moghaddam's #Arthacks series, the artist uses augmented reality technology and virtual worldbuilding to hack into the 2022 Frieze Art Fair in London. Within the video work, we witness Moghaddam's luminescent CG figures dancing atop dazzle camouflage plinths and pop up next to abstract paintings and figurative sculptures in sales booths. In addition to these posthuman bodily forms, the #Arthack superimposes text on existing sculptures within the art fair environment, donning labels of 'Disinformation' and 'Misinformation'. In one scene, two X-shaped digital sculptures—recalling female chromosomes—seem to barricade one of the fair's main avenues, before they are cloaked by a charcoal grey shroud. In another scene, a fantastical body made from a richly-hued Persian rug print throws punches in front of a painting honoring Jina 'Mahsa' Amini, a 22-year-old woman who was murdered by the Iranian morality police in 2022. The project deploys a feminist and activist approach to augmented reality technology in order to disrupt the everyday operations of the art fair.
Freedom Part II: Art Basel Miami (2022), part of digital artist Marjan Moghaddam's celebrated #Arthacks series, is an augmented reality intervention that was staged at the 2022 edition of Art Basel Miami Beach. In the video work, Moghaddam's signature posthuman creations intervene in the operating logics of the art fair, wiggling around on booth plinths and prancing across floor-based sculptures. Here, Moghaddam's interloping characters adopt the red, white, and green colours of the Iranian flag in their hallucinogenic bodies, supporting the ongoing Woman, Life, Freedom movement in Iran. In another scene, a pile-up of augmented bodies rendered in gold texture and bloodied white marble collapse on their feet, releasing an explosion of emoji clouds. Elsewhere in Moghaddam's mixed-reality space, the antique bust of Venus de Milo is split in two, a rotating question mark taking the place of her abdomen. The liberating potential of the glitch as an activist tool is an especially palpable theme within this intervention.
Presented at Frieze New York in 2022, The American Hush: Frieze NY (2022), part of Iranian-born, New York-based digital artist Marjan Moghaddam's #Arthacks series, tackles pertinent topics of censorship and women's reproductive rights. In the project's augmented reality intervention, presented here as a video work, Moghaddam's multi-chromatic bodies are kept quiet by disembodied hands as fair-goers walk past nonchalantly. In one booth, two bristling augmented figures wrap around a hacked Statue of Liberty sculpture that releases a swarm of silenced emojis. Above a trifecta of sculptural figures with their eyes, ears, and mouths muffled, a fluorescent textual halo stating 'Miss Information' quickly rotates. In this work, we also see filmic interventions of stills from The Handmaid's Tale and a pissed-off animated uterus that gives the art fair the finger while sporting a fresh red manicure. Leveraging humour, symbolism, and spectacle in equal turn, this powerfully disruptive project reveals the capacity for augmented reality technology to serve as a political tool.

As part of Marjan Moghaddam's celebrated #Arthacks series, the short looped video comprising Glitched Odalisque Multibody from Frieze London 2019 (2023) is a new creation for the artist's solo exhibition at ANNKA KULTYS PHYGITAL. The work centers on Moghaddam's #GlitchedOdalisque, one of the artist's original 3D CG characters, here constructed as a kind of mutating exquisite corpse, its multiple bodies collapsing into one. The dancing figure is flanked by original animated and 3D voxelized paintings by Moghaddam, including two AI-generated artworks and a still from #GlitchGoddess, that have been superimposed onto the walls of the sales booth. Working with found imagery shot at Frieze art fair in London by the artist's friend, the late British artist Duggie Fields, Moghaddam hacks this recording with her own artistic interventions, creating a hybrized environment that feels neither entirely real or 3D rendered. The Glitched Odalisque in this work likewise rejects such binaries, its colonial figure being reconceptualized by the artist, who is an immigrant of middle-eastern descent.
COMING SOON
Set to an old Iranian revolutionary song from a protest video in Iran, the new video animation of Woman, Life, Freedom AI #Arthack (2023), created specifically for Marjan Moghaddam's solo presentation at ANNKA KULTYS PHYGITAL, extends the artist's ongoing engagement with the Woman, Life, Freedom movement within her home country of Iran. The piece draws on AI to imagine the interior of a contemporary Iranian home, merging Persian architectural iconography with western elements that reflect the cultural complexities of post-revolution Iran. In the video, Moghaddam's #Lordess figure, a recurring character in the artist's renowned #Arthack series, is placed center frame, her Persian-inspired texture bulging, bristling, and dripping as she transforms from one body into three and back again. A tentacled quantum figure looking like an octopus rendered in green glass periodically exists and enters the scene from different sides, completing the sensation of a closed-loop. Meanwhile, the architectural backdrop itself contorts and extrudes itself to the music, appearing as times like a speculative soundsystem to the character's protest dance.
COMING SOON
In Collabing the Unbearable Weight of it All (#Arthack of AI Imagined Frieze Art Fair 2023) (2023), a new work in Marjan Moghaddam's celebrated #Arthacks series, two of the artist's signature Chronometic Sculptures appear hacked into an AI-designed art fair sales booth. The technicolor characters melt into each other, creating a hybridized posthuman form that serves as a metaphor for creative collaboration between humans and AI. Within the background, an AI-rendered exhibition space is a playful testing ground for Moghaddam's 2D hacking – in the yonic shapes of a pair of wall sculptures, the artist has inserted a waterfall of colourful beads; behind the contorting bodies, a painting and photographic work are stretched out and scrubbed over by an invisible hand. The work challenges the order of the art fair in Moghaddam's signature interventionist approach, wherein the mixed-reality environment of this imagined art fair becomes an apt context for staging a glitch-as-protest.
COMING SOON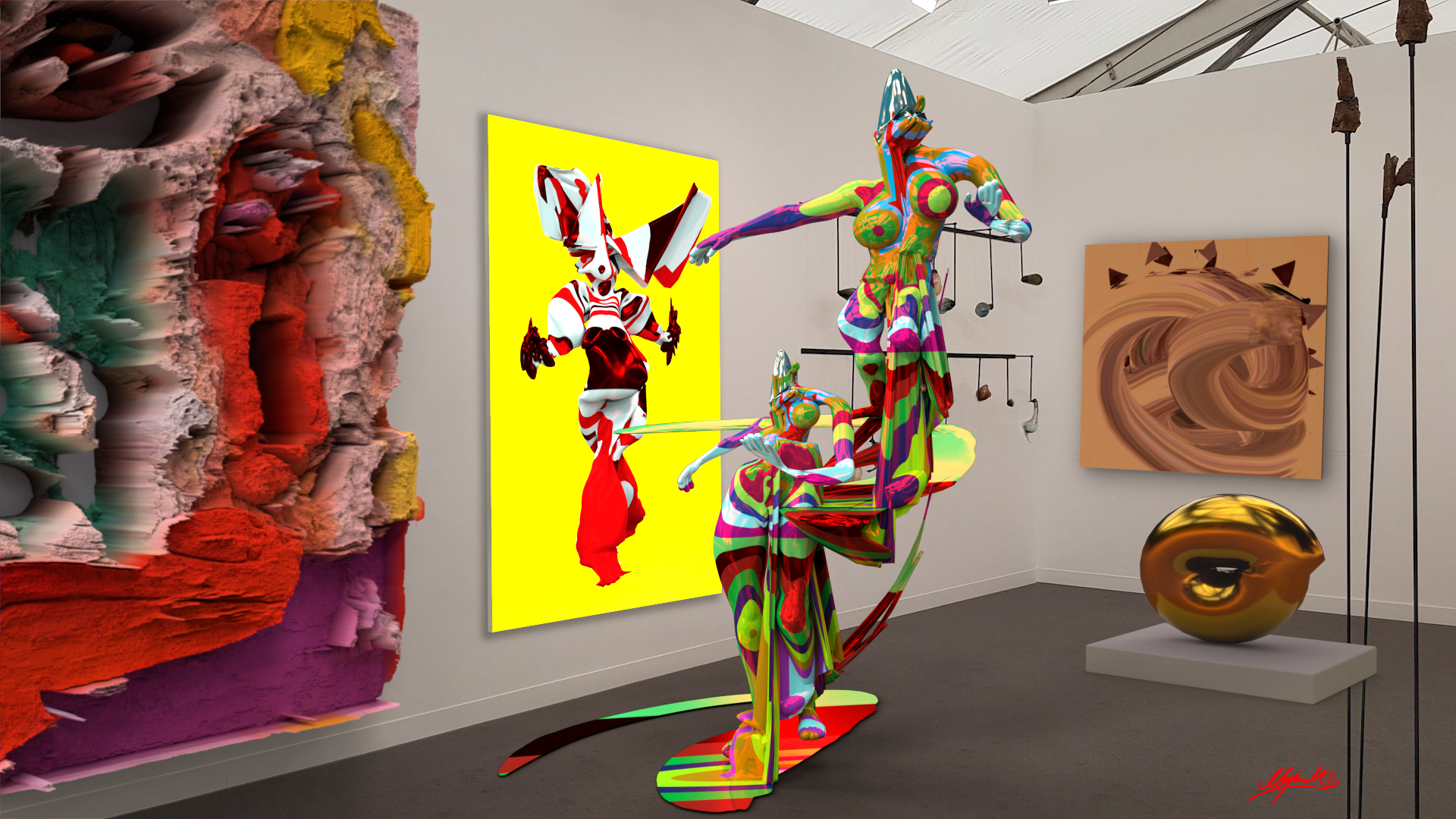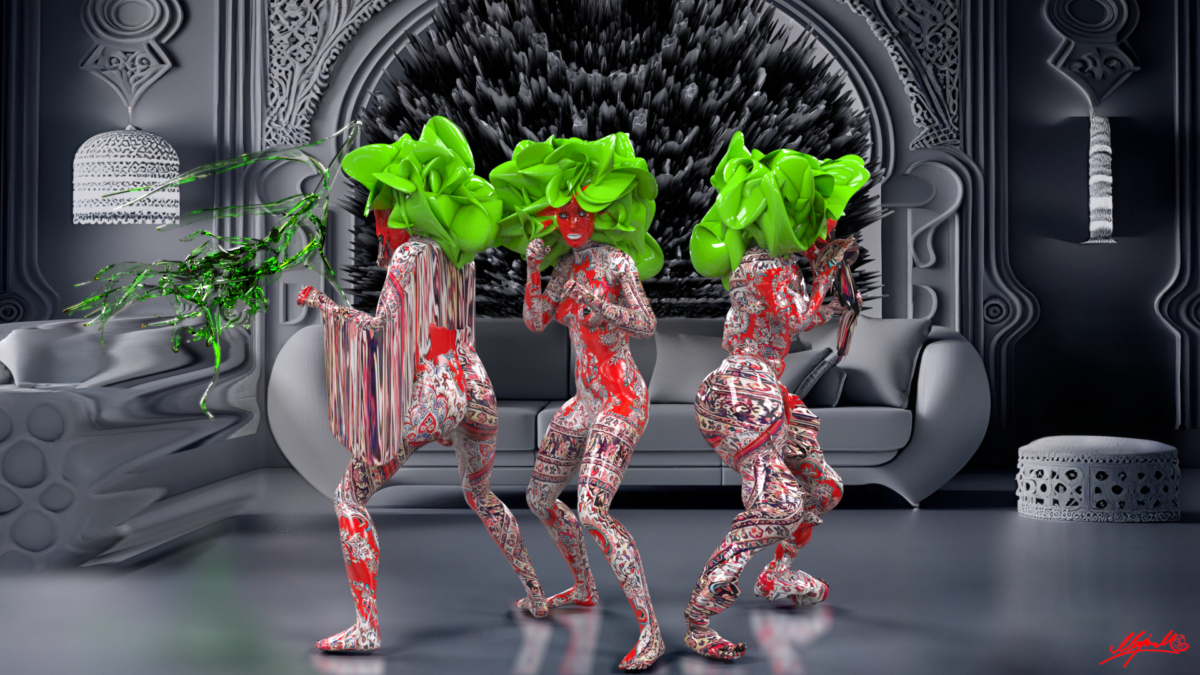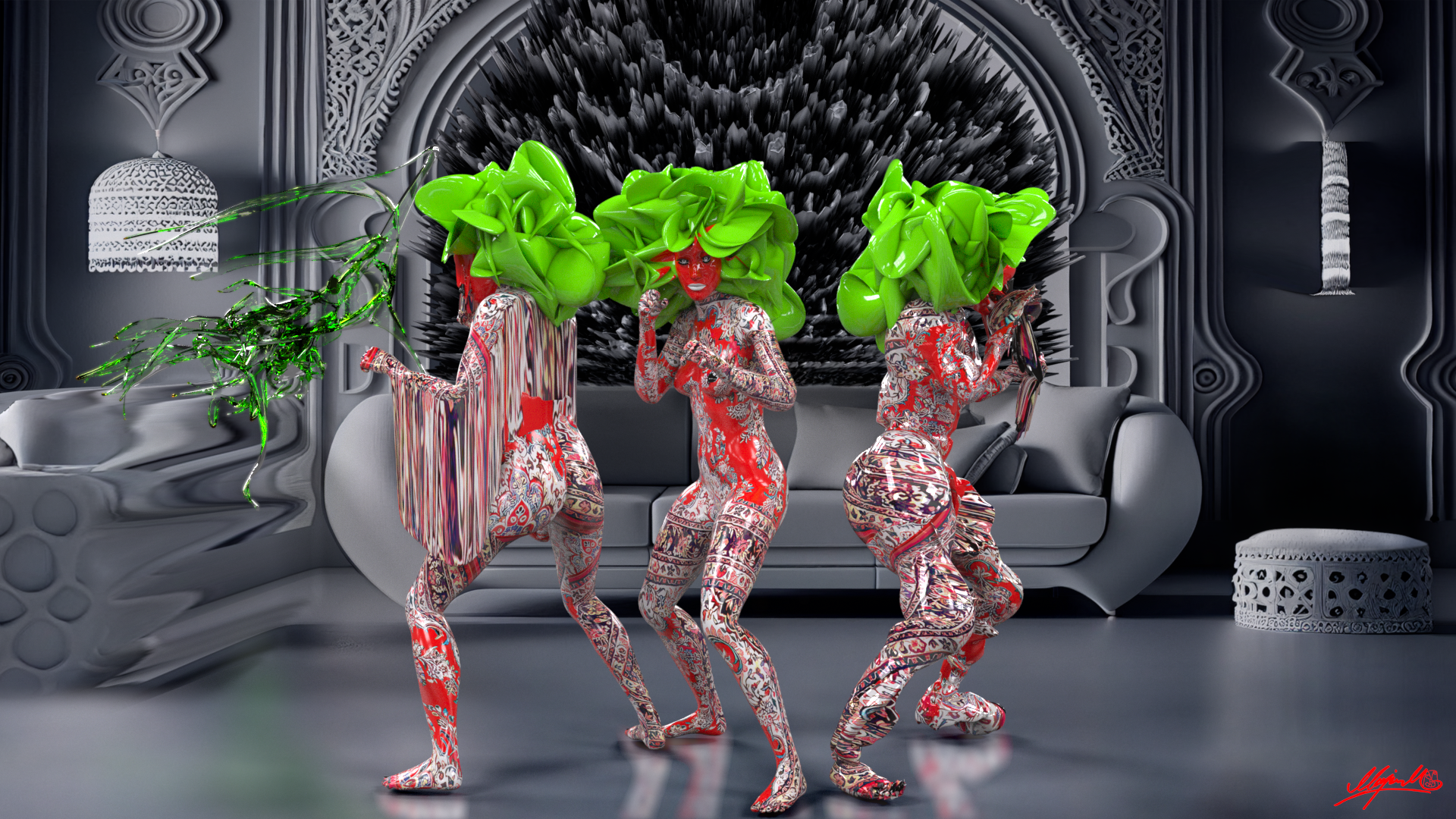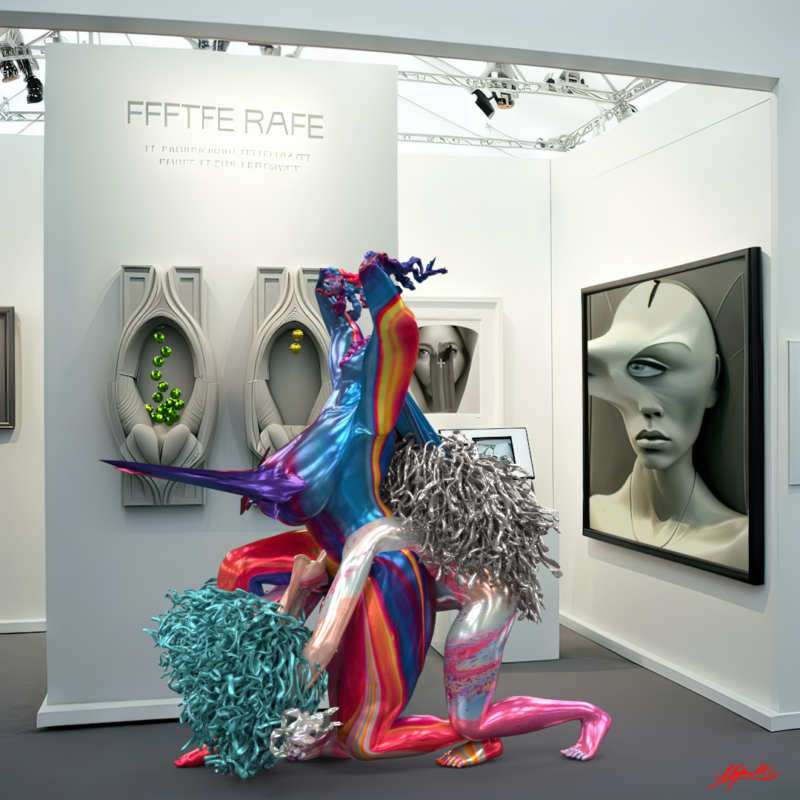 ARTIST INFORMATION
With an expansive practice that's equally rooted in art history and emergent technologies, Marjan Moghaddam creates digital animations that critique and destabilise the conditions of the present. Drawing from a vast conceptual repertoire that spans chaos theory to glitch feminism, the artist leverages the power of motion capture, augmented reality, and other technologies in an experimental process that's as playful as it is powerful. Moghaddam's celebrated series #Arthacks and #Glitchgoddess sees the artist infiltrate the capitalist logics of the international art fair model with wily posthuman protagonists, democratising exhibition spaces through digital embodiment and mixed reality media.
Moghaddam's ongoing #Arthacks series, initiated on Instagram in 2016, have earned the artist international recognition, with Whitewall Art declaring the artist to be "the definition of digital fine arts" and the Examiner heralding her as "the First Lady of Animated Painting". Integrating politics and play through digital embodiment, the series merges Moghaddam's skills as a 3D animator with situated interventions into the social and economic landscapes of contemporary global art fairs. Accruing millions of views on social media, the series aims to democratise exhibition space while injecting a critical dialog into the typically apolitical environment of the international art market. Recently, the series has extended its focus to the ongoing Women, Life, Freedom movement in Iran, as well as the recent attacks to women's reproductive rights within the United States and abroad.
Born in 1961 in Tehran, Iran, and based in New York, Marjan Moghaddam earned her BFA in 1993 from the State University of New York, followed by her MFA from Long Island University in New York in 1999. She is a tenured professor of digital art (CG, Animation, and XR ) at LIU Brooklyn, NY. Moghaddam's groundbreaking work has been recognised through numerous grants and awards from The Rockefeller Foundation, New York Deprartment of Cultural Affairs, Brooklyn Arts Council, and the Experimental Television Fund, among others.
Moghaddam has exhibited widely in galleries, institutions, and art fairs, including commissions from the Smithsonian Museum, Snap 3.0, and the city of Oslo. Moghaddam's institutional presentations include a solo show at the Museum of Contemporary and Digital Art in Decentraland, Proof of Art at Francisco Carolinum Museum in Linz, Austria, the first NFT-based institutional exhibition. Moghaddam is a highly active and influential figure in the NFT space, with major drops and presentations at international platforms, galleries, and fairs including ANNKA KULTYS PHYGITAL, Vertical Crypto Art, NFT Gallery, Unit London, Vellum LA, LA Art Show, SuperRare, Superchief NYC, Art Basel Miami Beach, and the Armory Show in New York.
She has received commissions from the Smithsonian Museum, Snap 3.0, and the cities of Vancouver, Orlando, and Oslo, and was an artist-in-residence at Adobe (2019) and SuperWorld (2017). Moghaddam has been hailed as the "Picasso of Digital Painting" (ArtNet) and was named as one of Forbes top AR creators in 2019.