Fad Magazine interviews Gretchen Andrew about her vision boards.
---
Gretchen Andrew: 'I'm at a moment of particular convergence where my work has snapped into a personal and conceptual place, where everything seems to make sense, including the dead-ends and burned bridges.'
By Moogz
The relationship between Gretchen and Google is like a modern-day David & Goliath. In kung-fu fashion, Gretchen observes how Google's search engine algorithm works and redirects its preferences to architect her internet presence. By "listening" to Google's algorithm and suggestions, Gretchen reformats her online persona by coaxing the algorithm into submitting to her whims. As a strikingly original search-engine artist with a flair for creating visually compelling, compelling and tactile "vision board" source material from which to spider, Gretchen's architecture of her future by "owning" her internet is an empowered catapult from which to smite the might of insidious Big Tech culture.
Your work with search engine manipulation and vision boards share a clear thematic link: manifestation of your career as an artist. Can you describe the journey which has taken you from working in tech to where you are today?
I am going to open with a cliche: everyone has their own journey.
Mine took me through the study of information systems and into Silicon Valley before I found my vocation in art. I'm at a moment of particular convergence where my work has snapped into a personal and conceptual place, where everything seems to make sense, including the dead-ends and burned bridges.
The internet cannot parse desire and my vision boards are all about desire. The language of desire is how I manipulate the internet into making all my dreams come true and, as you noted, I've also hacked my way into the offline art world. Nothing is a clearer indication of that than my exhibition and representation with Annka Kultys, opening on April 22, with a reception from 6-8pm. The work in this show, called Other Forms of Travel, reflects on the alternative journey I took instead of going to art school. Now when you Google "Best MFA", instead of getting Yale or CalArts or The RA, you get my vision boards about the experiences and journeys I took on my nontraditional path. They are a celebration and an affirmation of our own experiences as our own forms of knowledge. How and by whom are we accredited? What gives us our validity as artists and people? In my career, I've used different methods of establishing my voice online and in the art world, and I present that as an invitation to everyone to celebrate what makes themselves uniquely qualified for the life they aspire to.
Do you have a particular favourite vision board to show for a demonstration?
When I reflect on alternative forms of education, validation, and experience, one important aspect of my journey is time totally away from technology. Nature, camping, psychedelic therapy, and literal dreams all impact my work as much as programming and system infrastructures.
Can you share some moments of inspiration which have informed your practice, and share with us the work it resulted in?
I am a deeply repressed romantic. So much of my work is about power, control, manipulation, but the deeper heart of it is about love, belonging, and the ache of desire. I've been getting more comfortable with the part of me that wants to dominate the world but also wants to be a princess.
In contrast to the objective machine aesthetic of the search engine, the physicality of your vision boards offer a tactile and textured interface to your dreams for your art career. What inspired you to start making the vision boards?
My experience in Silicon Valley in the art world is that people don't anticipate the technical power I am capable of as a function of my gender. I wanted to take my gender and gender norms and perceived limitations to an extreme. I wanted to make something that was so unexpected in its power that the work and I could merge in and out of each other and move forward into demanding and creating a different world.
Can you give us an idea of what your last year has been like in terms of where you've spent time and what you've been up to?
I spent the last year dreaming and building machines. So like, dream machines. I know that I want a career where momentum is automated to keep me focused on the work and not just finding its next public presentation or sale. That takes building a great team, setting a vision, and putting in the organization work up front. I always tell art students to make sure they have a database, an international invoicing system, and a job description for their studio manager in place. It's the corporate version of having the dress before you have the date.
Pretend Larry Gogosian walked into your studio to tell you you have an exhibition opening next week. Are you actually ready for that? I believe in always working to be ready for the opportunities that haven't presented themselves to me yet. I find that once I am actually ready I am rarely waiting long.
What does the year ahead look like and where will you be showing work? Share your hopes and dreams for 2021.
Other Forms Of Travel, this show with Annka Kultys, is a huge deal. It is the cumulation of much desire, programming, and manifestation. After this, some highlights are that I am the Artist in Residence with The National Gallery X as part of some work in VR I started last year with Gazell.io. In October I open a show in Linz, Austria, at the Francisco Caralimium called Trust Boundary.
In order of recentness, which search engine terms can our readers look up to gain insight into your manipulation of Google results?
"Contemporary Art Auction Record"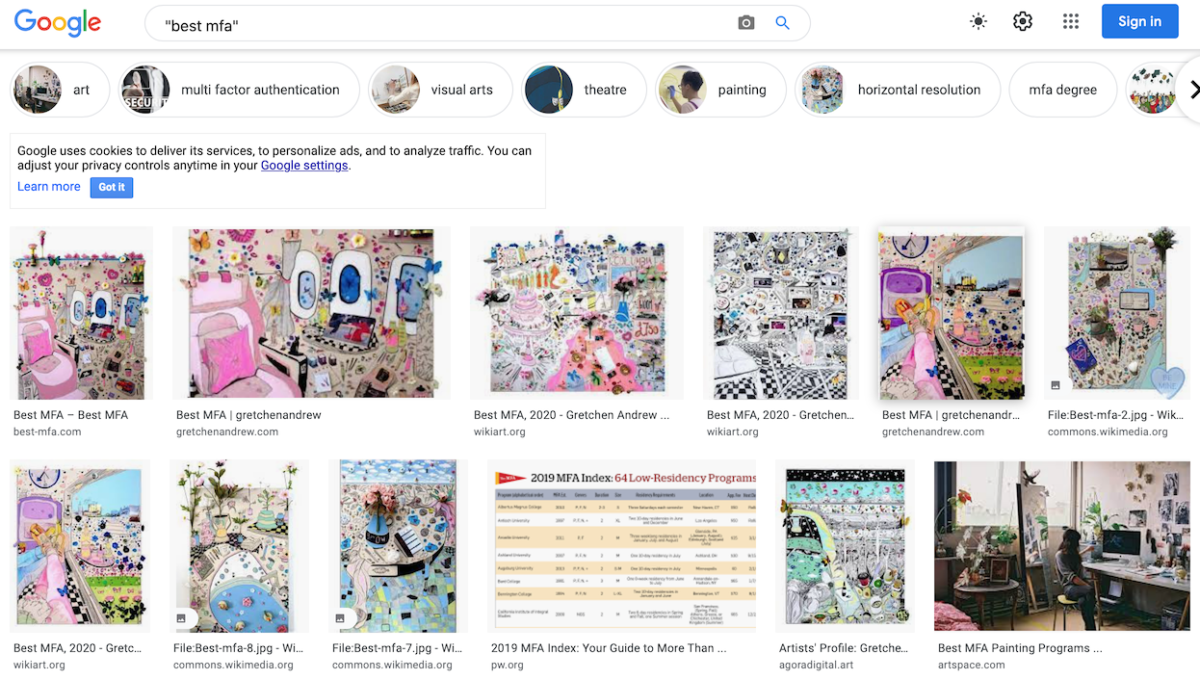 Do you have any plans for collaboration with other artists?
Webb and I are dreaming something up. Stay tuned for that. Penny Slinger has been a friend and mentor for years now and we have been talking more about making something together which I am also very excited about.
What's your hot take on the 2021 crypto-art explosion?
As Taylor Swift says, "I don't like a goldrush." At the same time, I am excited about the ability to make the more digital aspects of my practice collectable.
Are there particular institutions you feel offer a genuine glimpse into the future of art?
On the tech side, there is no one I respect more than The Mozilla Foundation for the way they think about the future of technology, and they have been very supportive of my work as a means of expanding internet literacy.
If you were granted three wishes by an artworld genie, what would they be?
I assume I can't wish for more wishes. That's usually in the fine print.
I wish for love
I wish for money
I wish for belonging
GRETCHEN ANDREW: Other forms of travel 22nd APRIL – 6th JUNE 2021 at Annka Kultys Gallery OPENING RECEPTION: THURSDAY, 22nd APRIL 6-8PM RSVP -Then by appointment: app.acuityscheduling.com/schedule

Link to the review →